Avoid Injuries During Spring Fever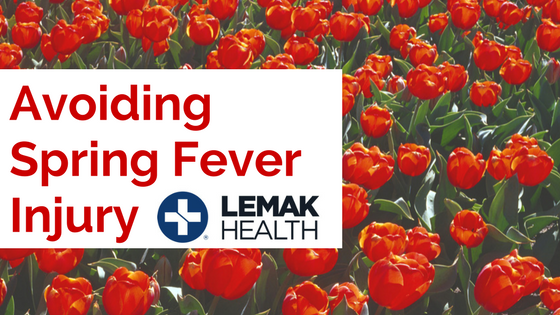 Winter weather has finally passed and people are itching to get outside. Spring fever seems harmless but many people, eager to enjoy the warmer weather, end up injuring themselves while participating in outdoor activities and spring cleaning projects.
After a long, dormant winter it is best to start off slow. It is important to be mindful of potential injuries, whether you are hitting the pavement for a jog or climbing a ladder to endure a typical yet risky spring cleaning project… cleaning out gutters. Start with stretches to loosen tight muscles and improve your balance. Also, stay hydrated throughout your activity of choice.
Here are a few simple Tips on How to Avoid Springtime Injuries
Spring Cleaning
Spring is the perfect time to rid your home of the dirty winter remains. When using a mop, broom, and vacuum to clean floors, be sure to hold them with both hands and hold the tool at waist height.
If a ladder is involved in your spring cleaning routine, make sure it is secure and level with the area you are cleaning to avoid stretching your back or neck upward for long periods of time.
Running
A run or jog on a spring day is one of the best ways to embrace the new season and take in some fresh spring air. An increase in spring runners and the significant increase in hamstring injuries is not coincidental. Hamstring injuries are most common among those who do not frequently run or adequately stretch. Slowly work up to your top speed and distance and avoid injury by stretching before and after each run.
Trampolines
Trampolines are a fun way to enjoy the outdoors with your children. However, sprains, dislocations, and fractures can quickly turn a cheerful afternoon upside down. Planting your feet properly is key to avoiding injury while bouncing away a warm spring day.
Gardening
Freshening up your lawn or garden makes for a delightful spring day. Be sure to follow these tips to avoid back strain and ensure a pleasant day spent outside. It is best to
 - Pull weeds with your legs and abdominal muscles tightened.
 - Lift with your legs, not your back, when lifting heavy flower pots or bags of soil and mulch.
Remember, slowly warm up to your spring projects and activities and practice the above tips so that you can savor the Spring season full of beautiful weather, injury free.
If you find yourself in need of medical assistance, please do not hesitate to contact a Lemak Health location convenient to you! To make an appointment: 205.453-7550. You can also contact us by emailing info@lemakhealth.com. Please do not send us confidential information or records via email.