Coping Prescriptions for Athletes Facing the Mountain of Recovery after an Injury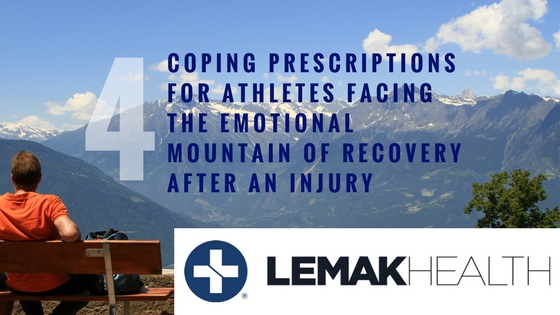 "It is a hard pill to swallow" when an athlete faces an injury resulting from the simplest of activities, especially when pain and rehabilitation prevent you from pursuing your goals or plans. For example, a young competitive gymnast, now isolated to a wheelchair for the remainder of the season after incurring dual ankle injuries from doing a simple cartwheel too aggressively.  Lemak Health has seen its fair share of random yet significant injuries that occur from the simplest of activities, and we know that athletes face more than the hump of recovery time after a significant injury occurs.
For any athlete, an injury embodies a loss. The loss of opportunity and for some, it also represents a loss of identity - a source of strength and individuality for young athletes. A sports injury can rob you of your confidence, your mojo, and the consistency of your time commitments by breaking your daily routines. Like any loss, you need time to adjust and heal emotionally, which can sometimes take longer than the physical recovery time. But, life can and will go on as usual. The trick to overcoming and coping with the emotional side of the recovery process is in keeping things in perspective. Recognize the fact that you are in a discouraged place and that you are going through something hard. Then give yourself grace and use self-compassion to cope with your feelings of anger, fear, and loss.
Self-Compassion – a helpful life-skill of gentle reasoning and self-reflection during tough emotional times; giving yourself passionate advice and understanding as you would to a friend.
Below are 4 valuable coping prescriptions for athletes facing an emotional mountain during recovery from an injury.
Accept yourself as you are right now, the good, the bad, and the ugly. Remind yourself that it's ok to feel sad or depressed that you are unable to continue doing what you love to do for the time being, and then decide how you are going to respond to it.
Focus your attention on recovery. Your doctor's orders are your new workouts. Treat them with the same reverence you would if it were your coach instructing a training/drill in practice. Trust that the doctor has provided you with specific and customized rehabilitation instructions and that treating them this way will speed your recovery.
Do only what you can. Oftentimes, you feel your lowest with you are feeling isolated and when your circle of supporters are doing things you can't yet do. Build yourself up during your rehab time by focusing on the things you can do and be willing to try new things while staying within your window of limitations. Don't push yourself into a secondary injury.
Surround yourself with encouraging reinforcements. Although an individual injury can seem very isolating, know that you are not alone. Find out how others have coped by connecting with others that have dealt with similar injuries. You can read almost any professional athlete's biography and know that you aren't the only athlete that has had a mountain of recovery from an injury to climb. And finally, collect daily reinforcement reminders through motivational quotes. Follow Lemak Health on Facebook for #MotivationMonday quotes from athletes who were once in your same shoes.
Dr. Loren James at our Lemak Health Prattville location, says his two favorite quotes he shares with young athletes rehabilitating after an injury are…
"One of the most common causes of failure is the habit of quitting when one is overtaken by temporary defeat." - Napoleon Hill
"I've learned that something constructive comes from every defeat." - Tom Landry
Lemak Health was founded by world-renowned orthopedic surgeon Dr. Lawrence Lemak—also widely known as Dr. Larry Lemak. Our practice has an exceptional group of specialized orthopedic surgeons and physicians who provide personalized health care for our patients. As a leader in the sports medicine and orthopedics field, our focus is redefining health and wellness for athletes, active professionals, and youth. We believe that the whole body cannot be healthy unless each part is healthy. With this as our guiding philosophy, we continue to deliver an outstanding healthcare experience.
Lemak Health is committed to improving life after injury.